SOUTH SHORE LINE RR HISTORY
TIMELINE
The Chicago, South Shore, and South Bend Railroad was one of America's earliest electric interurban railroads and has endured for well over a hundred years connecting Chicago with a string of cities and towns across Northern Indiana.
The earliest predecessors of the South Shore Line were among the earliest attempts to construct an electric interurban railroad from Toledo, Ohio, to Chicago, Illinois. From its earliest beginning over 120 years ago, the western leg of the South Shore Line's founders' vision has endured
Today, the South Shore Line continues to operate for 90 miles from Chicago through the strength of the industrial heartland, the beauty of the Indiana dunescape, and across the rugged glacial moraine country to South Bend, Indiana. The South Shore Line Museum collection of large artifacts shall focus primarily on the period from the origins of the South Shore Line in 1900 until the end of the Insull-era in 1932. Our storytelling shall not end in 1932 though, but will cover the entire South Shore Line story up to and including the present.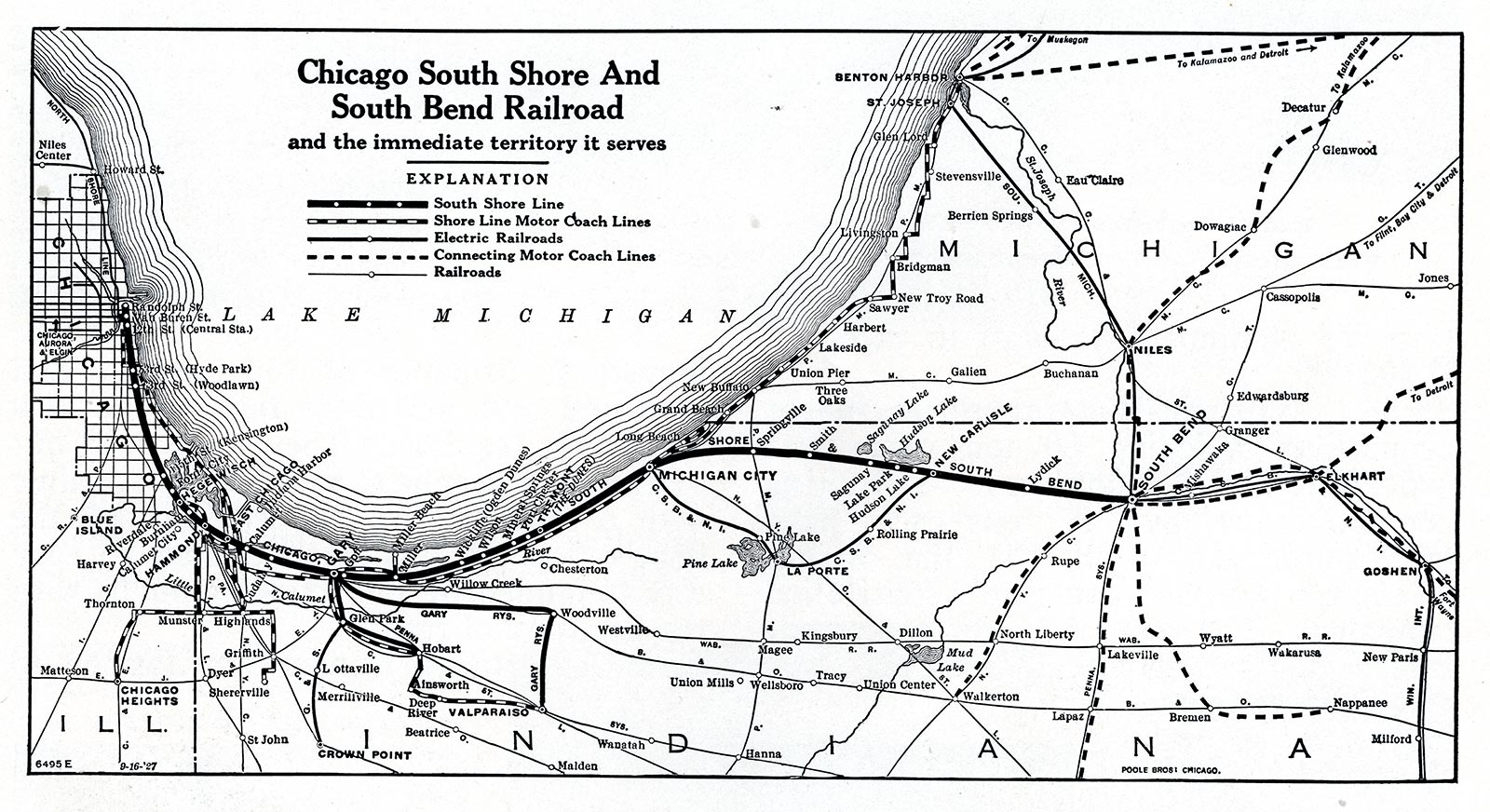 Interurban electric railways were an idea ahead of their time. In the early 20th Century, America's urban centers were growing at breakneck speed. One of the new electrical technologies that ordinary Americans benefited from was a network of fast, frequent, clean, electrically powered trains. Building electric railways to interconnect cities with small towns improved access, accelerating the growth of business and commerce.
In effect, the growth of electric interurban railroads both piloted and presaged a series of dramatic shifts in American's expectations as to mobility, access, and economic development.
Interurbans were a disruptive technology. But they were quickly overtaken by an even more radical and disruptive technology, and one that even better suited the American character: The Automobile.
SOUTH SHORE LINE: ORIGINS & HISTORY
The Chicago, South Shore, and South Bend Railroad was one of America's earliest electric interurban railroads and has endured for well over a hundred years connecting Chicago with a string of cities and towns across Northern Indiana.
Corruption, Racism & World Leadership:
The Men of the Chicago, South Shore and South Bend Railroad
This book is dedicated to Robert Winkler for doing more to save the South Shore Line than he will ever understand, and to Lisa Gardner Harris for understanding the value of preserving the fine woodwork that rode the railroads.
HERITAGE RESOURCES
The assets of the South Shore Line Museum Project represent 45 years of collecting the rolling stock, physical plant, and corporate ephemera of the South Shore Line. Here is just part of this feast of transportation history.
Collected Rolling Stock and Physical Plant Assets
Twelve railcars (one wood combination coach-baggage car; six steel coach cars; one dining car; one parlor-observation-buffet car; one Birney streetcar; one electric locomotive; one service car)
10,000 sq ft of warehouse space stocked from floor to ceiling with capital spare parts
Two miles of track materials including seventeen turnouts
Ten miles of overhead trolley wire hardware
The Penn-Wabash bridge (174' Pratt pin-connected truss)
Ten miles of three-color light block signals
The collected rolling stock is representative of the operations of the South Shore Line and its predecessor, The Chicago, Lake Shore and South Bend Railway (South Shore Lines) in the period 1908 through 1932. The only remaining rail car from the opening of the railway in 1908 survived the coming of the Model T Ford, two world wars, the Great Depression, and the unrest of the 1960s. It is currently in a restoration shop in Illinois.
Collected Archival Assets
82 art posters from the Insull Group companies
Passengers Use Light at Night – documentary motion picture aired on PBS
10,000+ images of Insull Group railways
500+ electric railway brochures & timetables
1,500+ electric railway annual reports
100 Full-Year Bound Volumes of Industry Journals (Electric Railway Journal; Street Railway Journal; Electric Traction Weekly)
Company AFEs
Company track maps & property records
Company equipment ledger books
1,000+ linen drawings and blueprints of rail car equipment and facilities
Library of 500+ books
PRESERVATION, CONSERVATION AND RESTORATION
Railroads in general and the South Shore Line Railroad in particular, do not create tangible goods. They move people and things from one place to another—one of the most fleeting and ephemeral activities known to man. Transportation cannot be banked, stored, or recycled.
It is, however, essential to modern life and progress, and the comfort and prosperity that has defined America for the last two centuries.
It is vital, alive, and engaging. The South Shore Line transported people to different places through changing times. (over the course of century) The South Shore Line Museum likewise strives to transport people to different places, times, and realities. It invites them to experience the journey in through a variety of means and in whatever ways they find most rewarding and meaningful. Its primary objective is to create new memories, rekindle old ones, make connections, and to provide opportunities to engage (with) the South Shore Line in ways that might prove most enlightening and useful.
It does so using original South Shore Line equipment, authentic railroad experiences and environments in addition to newer technologies like virtual reality, simulation and every tool available to contemporary museum practice.
Our vision is to use the South Shore Line railroad as a portal for the exploration of history, technology, culture, and the evolution of life in Northwest Indiana.
Tap/click and drag the arrow handles left or right to reveal paired images below.