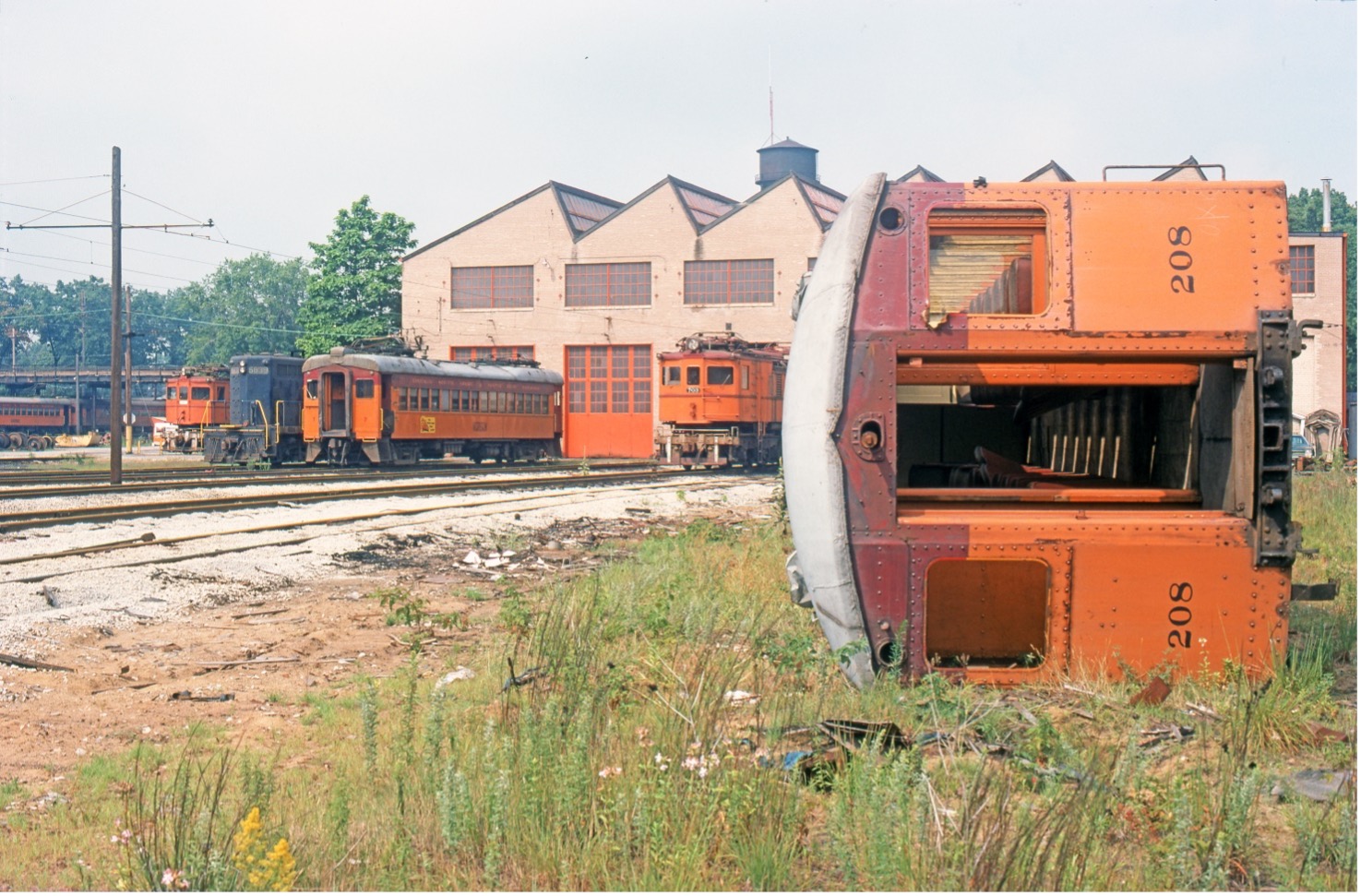 Preservation of railroad assets is an odd dance, but not an unfamiliar one. It takes two willing parties. There must be one willing donor and one willing donee or one willing seller and one willing buyer.
There are two typical recipients of railroad equipment, nonprofit museums and private parties. Unfortunately, railroad museums are usually all too willing to be recipients of equipment without any thought whether there are relevant stories that can be told with their new acquisitions, or what utility the equipment can provide. The result is most often less museum and more rail car menagerie.
Private party ownership of railroad equipment can lead to worse outcomes – equipment is often butchered for a use as a home, outbuilding, or commercial venture. Here, space needs are the first consideration. During the 1980s and 90s, restoring railroad cars rescued from homes and businesses for preservation became something of a cottage industry for railroad museums and their vendors.
The South Shore Line cars that have been preserved are a mixed-bag of equipment that has gone to private adaptive reuse as well as to large nonprofit railroad museums where the South Shore Line story vanishes into a vastness well captured in the closing scene from Raiders of the Lost Ark.  The mission of the South Shore Line Museum Project is to ensure that the South Shore Line story is well told. That said, the effort to preserve the South Shore Line story has been imperfect and some physical evidence of the story has been lost.
In the case of the South Shore Line, there have been four periods of scrapping and efforts at preservation: 1) the period before the railroad preservation movement got well underway – prior to 1941; 2) the early years of the railroad preservation movement and prior to the South Shore Line discontinuance of service petition – 1941-1975; 3) the growth years of the railroad museum movement after the discontinuance of service petition – 1976-2010; and 4) the consolidation of the South Shore Line legacy fleet – 2011 to the present. This blog post will consider the first period.  In three follow-up posts, I will discuss the second, third, and fourth.
Not Much Lost, But Nothing Preserved
South Shore Line Equipment Scrapped from 1928 through 1940
This discussion is limited to South Shore Line freight locomotive, Merchandise Despatch, and passenger car equipment that operated after the re-electrification of the South Shore Line in 1926. Equipment of The Chicago, Lake Shore and South Bend Railway that was retired and scrapped at the time of the re-electrification in 1926 is not considered here. However, the one wood coach trailer that was scrapped in 1929 is covered below; one wood passenger car and the two locomotives that operated anywhere after that date will be covered in later posts.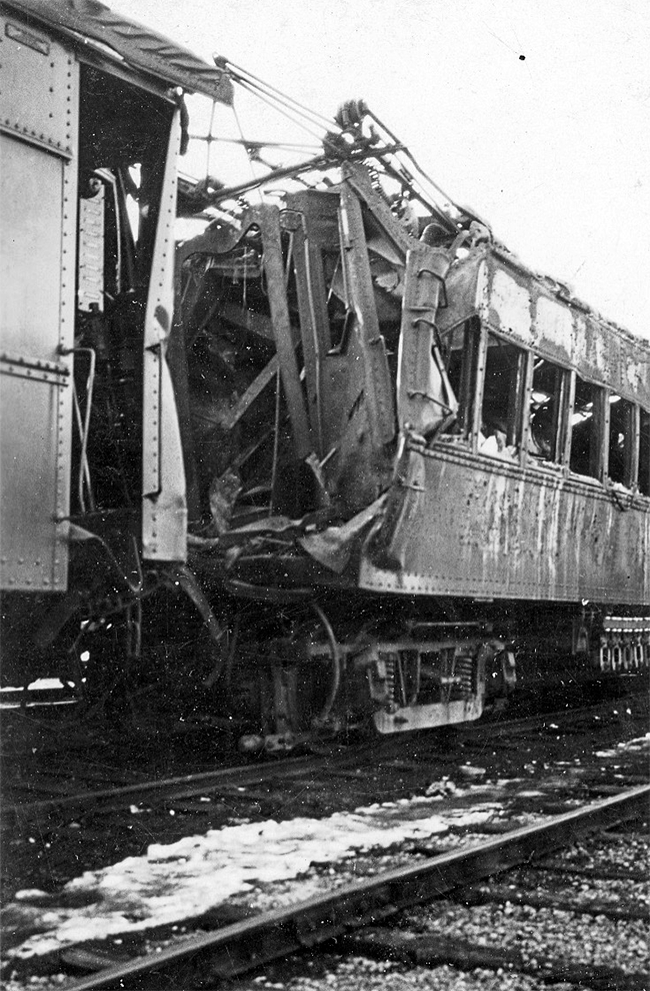 Passenger Car #10: Car #10, a coach with walk-over seats and a box smoker, was scrapped after it was wrecked and burned on 1 January 1928 in a fatal rear-end collision at Parsons, Illinois.
Car #10 sustained structural and fire damage after striking car #203 at Parsons. Car #203 was rebuilt and is in the SSLMP preservation collection at Michigan City, Indiana. Car #10 was the first South Shore Line passenger car scrapped. There was one fatality as a result of the collision between car #10 and car #203 – Motorman Stafford aboard car #10. [1]
Passenger Car #224: Car #224, a wooden coach trailer, was removed from passenger service in March 1929 and scrapped. [2] The South Shore Line had proposed to operate a mixed fleet of wood and steel cars as was done on the Chicago, North Shore and Milwaukee; the Chicago, Aurora and Elgin; and the Chicago Rapid Transit Company. [3]  Likely as a result of the wreck at Parsons, Illinois, in 1928, a decision was made to order additional steel cars and to withdraw the two wooden trailers from passenger service.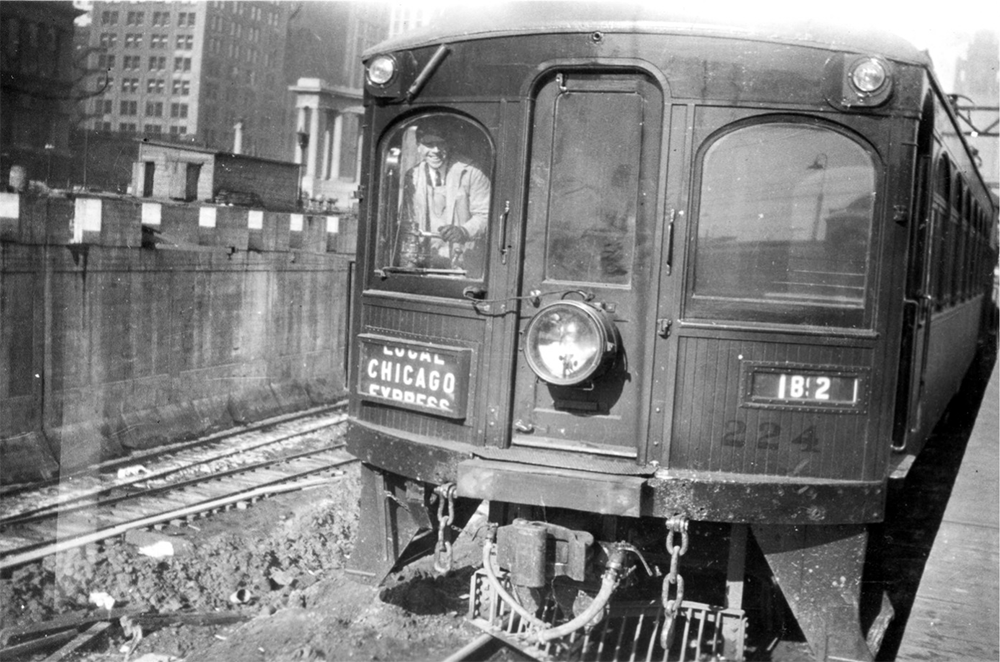 Coach trailer #224 at Randolph Street, Chicago, 1927. Although the Insull Group operated mixed fleets of wooden and steel equipment elsewhere, the decision to eliminate wooden cars from the South Shore Line was unique in their Chicago operations. Mixed fleets continued in service on the Insull Group railways in Chicago for three decades after this photograph was taken, the last wooden cars were not removed from service on Chicago's 'L' until 1 December 1957. [4]
Merchandise Despatch Motor #401: Car #401 was removed from Merchandise Despatch (freight) service at about the time that that trailer-on-flatcar less-than-carload service ended on the South Shore Line circa 1937. Under AFR 8084 of 1 November 1937, car #401 was dismantled. Electrical equipment from car #401 was salvaged to motorize coach trailer #213. [5]  Once motorized, car 213 was renumbered car #40. Car #40 survives at the Illinois Railway Museum.
Although scrapped, car #401 was not a total loss. Electrical equipment from car #401 may yet survive as it was stripped from the car body after its retirement in December 1937. All the Insull-era passenger cars that were out of service before August 1983 were cannibalized to keep the remaining cars running; some of the cars sat for years while shop forces robbed them of what good usable equipment remained.
The electric railroad preservation movement got its formal start in New England in October 1940 with the incorporation of the Connecticut Trolley Museum at Warehouse Point. The Seashore Trolley Museum at Kennebunkport, Maine, was incorporated the following year.  Both early New England electric railroad museums collected interurban cars from the Midwest. After its founding in 1945, the Shore Line Trolley Museum at Branford, Connecticut, in 1945, collected Midwestern interurban cars as well. But in the Midwest, the formal railroad preservation movement came much later. More about scrapping and electric railroad preservation in the second period in my next post.
[1] Interstate Com. Commission Report of the Director of the Bureau of Safety in the Investigation of an Accident which occurred on the Chicago, South Shore and South Bend Railroad at Parsons, Ill., on 1 January 1928, 13 March 1928, http://southshore.railfan.net/pdf/19280101-CSSSB%20Accident.pdf.
[2] Chicago, South Shore and South Bend Railroad, AFE Book, AFR #8015, Retirement of Ten Wooden Trailers, Mar. 2, 1929.
[3] Chicago, South Shore and South Bend Railroad, Specifications for Rebuilding Cars 1 to 15, 75, 76, 77 and 101 to 110, at 25 (Jan. 15, 1926).
[4] Chicago-L.org, Wooden Rolling Stock, https://www.chicago-l.org/trains/roster/woods.html (last visited 1 May 2022).
[5] Chicago, South Shore and South Bend Railroad, AFE Book, AFE 809, Convert Car 213 into a Motor Car, 15 November 1937.