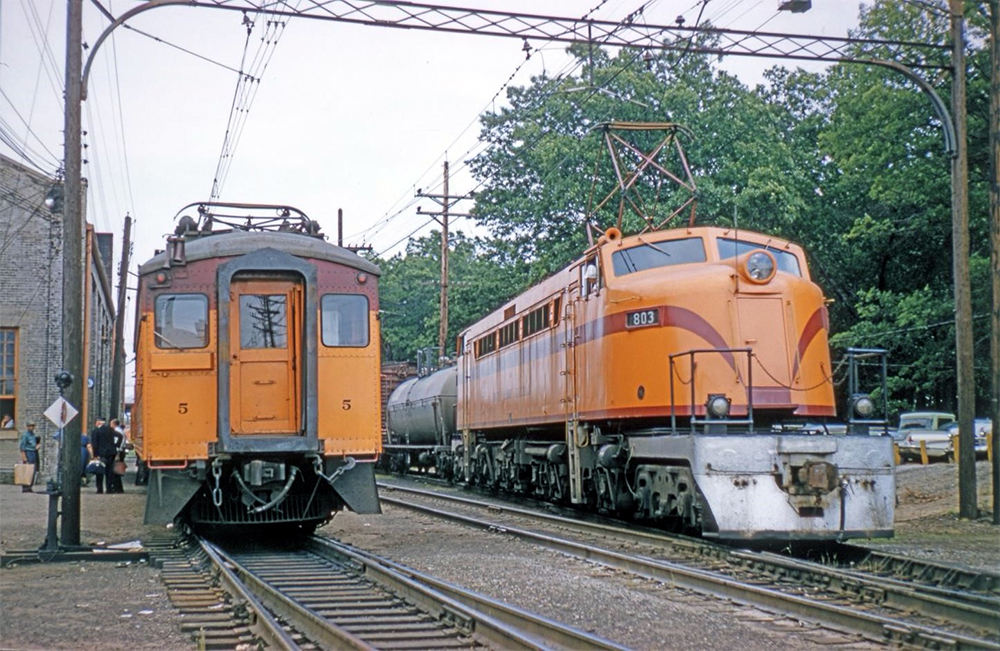 South Shore Line car #5 and locomotive #803 at Michigan City, Indiana, July 1961.  Nearly two decades later, John Hankey toured the Shops looking for a coach and locomotive for the B&O Railroad Museum collection.  Car #5 headed east with locomotive #802; locomotive #803 headed west to Illinois.
By John Hankey 
Of all the South Shore Line cars set aside for preservation or reuse, only one wandered farther than Car 5, part of the original 1926 order to modernize and re-equip the South Shore Line after it was purchased by the Insull Group.
Car 5 ended up in Baltimore, Maryland, about 700 miles by rail to the east. And I was the one responsible for its abduction from Indiana. But you don't just sneak a 60-foot long, bright orange railroad car weighing 65 tons out onto the Indiana Turnpike. I had help. And it was even official.
Forty-some years ago, I was the Historian and Archivist at the B&O Railroad Museum in Baltimore. The Baltimore and Ohio Railroad, along with the Chesapeake and Ohio Railroad and Western Maryland Railway comprised the Chessie System, now merged with the Family Lines System to form CSX, one of the country's seven major railroad systems.
The B&O had celebrated the 150th Anniversary of its founding a few years before and Chessie was deeply involved in a multi-year celebration. That included bringing historic locomotives and cars from the different Chessie railroads back to Baltimore for inclusion in the collection.
It just so happened that at the time, the South Shore Line was a Chessie System Railroad. Chesapeake and Ohio Chairman, Cyrus Eaton, had engaged in a battle with the Monon for controlling shares of the South Shore Line, and Eaton won in 1967.  In 1984, Chessie System sold the South Shore Line to the Venango River Corporation.
With the creation of the Northern Indiana Commuter Transportation District (NICTD) in 1977 and the decision to modernize what had become America's last and longest-serving electric interurban railroad came an infusion of major capital funding. Among other things, that meant that the South Shore line could purchase new, more efficient stainless steel interurban to replace the classic—but aging—Insull-era cars, at that time the oldest passenger equipment still in regular service in North America.
Even forty years ago, completely replacing a commuter fleet was a complex and lengthy undertaking. Chessie understood that and recognized the opportunity to preserve representative South Shore Line equipment in the permanent collections at the B&O Museum, which then had over 50 historic locomotives and cars spanning150 years.
We believed that a South Shore Line 800-series electric locomotive, a classic steel interurban car, and a caboose would help us tell the story not only of the South Shore Line, but also the history of electric railroading in the United States. The B&O had pioneered the use of electric locomotives for mainline trains in 1895, and Maryland's Washington, Baltimore & Annapolis Electric Railway was one of the best-known interurban railroads in the country. Having South Shore Line equipment in the collection made sense and filled a hole in our ability to tell the story of American Railroading.
Then there was the question of what to bring back to the Museum in Baltimore when it was released from service. My task was to go to Michigan City and meet with South Shore Line folks to figure that out. Transportation was of course no problem—it would move as company material from the SSL/B&O interchange in Gary (at B&O's Kirk Yard) to Baltimore's Mt. Clare "A" yard, then be delivered to the Museum by a local switch run.
The arrangements were made far above my pay grade, and I recall being warmly welcomed by South Shore Line folks in Michigan City. I later learned that there had been some concerns about preserving any of the original 1920s steel car fleet, but that opinions had changed and much of the South Shore Line equipment was available for preservation.
I drove from Baltimore to Michigan City in 1979 and spent a delightful couple of days looking at all three 800-series motors, a few dozen steel interurban cars, and a couple of rather tired cabooses. I rode the entire South Shore Line and formed the opinion that the railroad was happy that at least a sampling of its classic equipment was being preserved at a respected railroad museum.
My job was made easier by Al Dudley, South Shore Line's president who was headed to retirement. As I recall, he invited me to look at whatever I wanted to. But early on, he steered me to car 5 as the most original, best conserved coach in the fleet. For whatever reasons, it had the least number of in-service modifications and the most complete historic fabric. Riding in car 5 was like being in a time machine. The experience was pretty much the same as it would have been in 1926. Or 1936. Or 1966—you get the idea.
A few years later, as the new Sumitomo NICTD cars were being delivered and the classic South Shore Line equipment came out of service, car 5 made its way east to the B&O Museum in a series of Chessie freight trains. It arrived at Mt. Clare in Baltimore in 1984, almost 60 years after Pullman Car & Manufacturing had delivered it to the South Shore Line. Almost every day in its long service life, car 5 would have passed within a few hundred feet of the factory in Chicago where it had been built in 1926.
Times change. Museums change. After 12 years as part of the B&O Railroad Museum's collection, it was time for car 5 to come back to Northwest Indiana as part of an emerging South Shore Line Museum Project. How that unfolded, and the adventures getting the car back to Indiana on its own wheels are part two of the story. And it was an adventure.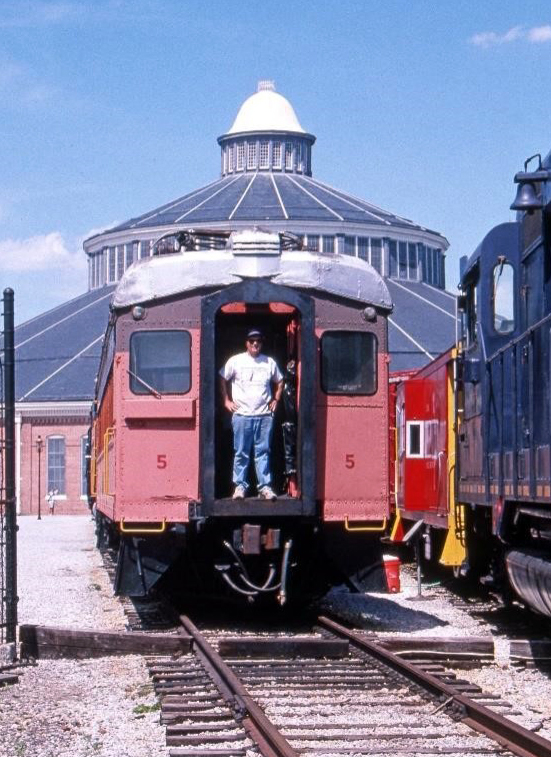 South Shore Line car #5 at the B&O Railroad Museum, 20 June 1997.  That evening, car #5 was picked up by a local freight and began the journey back to Indiana.