It was Trains Magazine that asked the question, "Did the railroad preservation movement save too much or too little?" My short answer is "yes!" In the case of the Chicago, South Shore and South Bend Railroad (South Shore Line), we saved far too much, but for all the best reasons.
When you think of the South Shore Line, you likely think that it is still there, operating every day (albeit with eight car trains made of stainless steel, plastic, and vinyl and carrying few riders), and still the last electric interurban. For the last 40 years, I have been scrapping the South Shore Line in an effort to preserve it. What follows here is a summary and an update from the end of my scrapper's torch.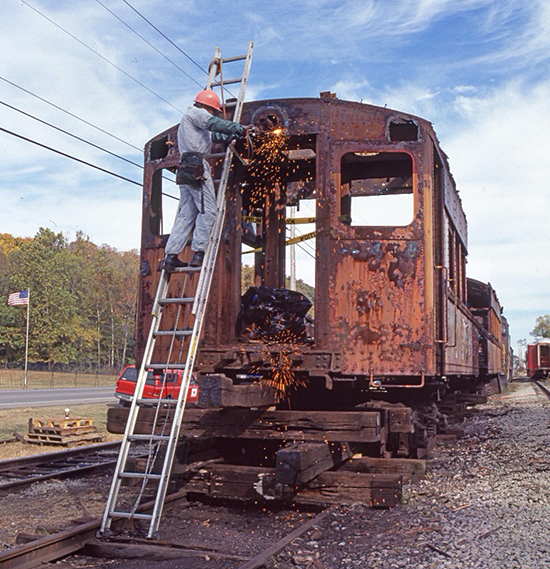 Step 1:  Stripping.  Bob Milcarek, carefully cutting the castings off the end of South Shore Line coach trailer #201 at Connersville, Indiana, October, 2004.  It took three weeks to thoroughly strip and then scrap the carcass of car #201. Photographer Credit:  Bob Harris
During 1981, the National Park Service (NPS) did what one would expect of a cultural resource agency and determined that the South Shore Line's assets were worthy of preservation. Without an authorization or appropriation from Congress, and for reasons rather complex and at times unclear, the NPS turned to me to go after four significant cars that were threatened. For reasons that seem a bit hazy now, I obliged.
When the South Shore Line vintage cars were auctioned off in the spring of 1984, I bought five more cars, and somewhat to my bemusement, NPS bought ten cars (how many did we need?), and NPS received nine more from the Northern Indiana Commuter Transportation District by donation (raising the question of what we going to do with 28 shitty railroad cars?) And the Michigan City Sesquicentennial Commission (MCSC) received one car from the South Shore Line by donation.  All this for a project that we all wanted, but without a planning document, we had no idea how to proceed. But despite the lack of a vision for the project, at least we had cars!
Close friends called my fleet "Harris's Shit Beaters."  The NPS fleet was only somewhat better. Between NPS, MCSC, and I, we had:
Thirteen short cars (the only authentic interurban cars on the South Shore Line)
Seven open window stretched cars (really nothing more than 1940s commuter cars)
One air-conditioned coach
Three air-conditioned combination coach/baggage cars (all the air-conditioned cars did meet any rigorous definition of interurban cars but they were really dull as they were set in 1950s décor and hardly authentic)
Five coach trailers (really nothing more than 1920s commuter cars)
Then, in the autumn of 1984, I was offered five more stretched cars that had been thoroughly stripped by the South Shore Line's shop forces.  That gave us a total of thirty-four cars – exactly one-half of the South Shore Line's steel car fleet in 1929.  It really was time to get out the cutting torches.
Between 1981 and 2021, I scrapped 14 of the South Shore Line's steel cars.  Car #14 was the 14th car scrapped. But I also preserved 7 of the steel cars.  Car #7 was the 7th car preserved.  Scrapping is a fairly quick process, and I can explain that in another post.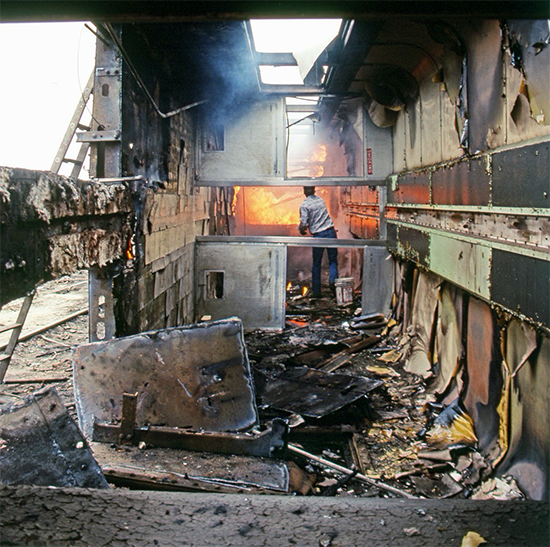 Step 2: Burning.  South Shore Line car #101 at Beech Grove, Indiana, August, 1985.  Unlike steam railroad heavyweight passenger cars of the 1920s, South Shore Line cars are full of combustibles.  Keeping South Shore Line cars from burning out of control while scrapping is a difficult task. Photographer Credit:  Bob Harris
Moving forward, more South Shore Line cars will be scrapped. Two more cars have been offered for scrap as we enter the autumn of 2021.  More cars will be preserved.  There are already two more on the way including the last South Shore Line Dining Car and possibly another coach. Two other cars were added to the fleet during the intervening years since this process began including the "last" South Shore Line Parlor-Observation-Buffet and the "last" South Shore Line Wood Car.  More on these cars later.
First random thought – do not mourn the loss of the fourteen cars.  They were either too far gone or already too modernized. And all but their skins were saved.
Warehouses now contain their palletized components large and small. None of the scrapped cars embodied the interurban era as we should all remember it anyway.
After all, the point of this project is to remember the interurbans in the way that we remember the San Francisco Cable Cars, or the Streetcars of New Orleans.  Or take the pilgrimage to the lonely places of Colorado and New Mexico that are inhabited by the last narrow-gauge steam railroad mecca in America.
Second random thought – that question asked in Trains Magazine.  "Did we save too much or too little?"  Yes. We had too many cars. But now we have enough spare parts to keep the South Shore Line vintage fleet running into perpetuity as is done at San Francisco, New Orleans, and Chama, New Mexico. But we do not yet have a fleet that represents all the fascinating aspects of the South Shore Line story, and so there must be more to come.
Third thought (not so random) – we need to tell the story of the South Shore Line's borrowed Pullmans.  Many steam railroad betterment coaches and observation-lounge cars were added to South Shore Line trains to carry fans to see the Fighting Irish at the University of Notre Dame, and sleeping cars from the Pullman pool carried Knute Rockne and the team to away games across the country.
Fourth thought – the last evidence of the South Shore Line's contribution to trailer-on-flat-car technology was scrapped in 1988 even as I begged the Venango River Brothers for the last South Shore Line Ferry Truck Service special flat car, #1453.  But even though the last Ferry Truck flat car was scrapped, the construction drawings survive. Given the progress we have made at interurban preservation, how hard would it really be to reproduce a flat car? Clearly, the battle to preserve the best of these valuable artifacts from the past is ongoing.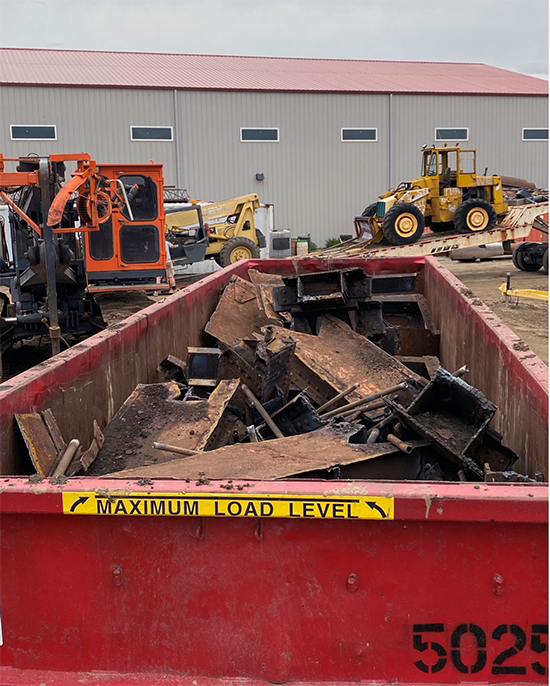 Step 3:  Cutting.  This is the end of the scrapping process – South Shore Line car #205 in a dumpster at Francesville, Indiana, May 2021. Photographer Credit:  Bob Harris